Saturday, June 3 · 2 – 8pm
Join us for an amazing day sampling Virginia's BEST Spirits and custom cocktails! PLUS, live music, great food & more!
This event will be the LARGEST single day collection of Virginia Distilleries that has ever assembled!
Visit with, learn about, and sample from 23+ Award Winning Virginia Distilleries! All-Access Sampling is INCLUDED in your ticket!
Every Distillery will have bottles available for purchase on site. Many of these bottles are typically only available at the distillery and cannot be found in ABC stores! Custom signature cocktails will also be available for purchase.
Scroll down to see the full list of participating Distilleries, products and cocktails.
-—————————————————————
Virginia Spirits Expo: Charlottesville
Saturday, June 3rd
2:00pm-8:00pm
VIP Hour-Early Access at 2pm
General Admission opens at 3pm
Charlottesville IX Art Park
522 Second Street, SE
Charlottesville, VA
-—————————————————————
Live music performances from Radio Riot and Zach Angle.
Pay as you go food from local food and dessert trucks TBA
Select industry related vendors will also be on site with special custom locally made spirit related products.
Get in-depth behind the scene knowledge from Virginia Distillers and industry experts like the Royal Rum Society and VA Booz News!
PLUS: Vote on your favorites to select Virginia's Favorite Distillery! Gold, Silver, & Bronze medallions will be awarded.
The gates open at 2pm for VIP and 3pm for General Admission, so come early and stay late to enjoy all the day has to offer!
Last call is 7:30pm, and the event will end at 8pm.
-————————————————————-
Ticket & Entry Types:
Entry Ticket ($20)
• For Designated Drivers and/or non-drinkers
• Includes access & entry to the event
• Does not include sampling or allow for additional purchase of alcohol during the event.
Full Access Sampling Ticket ($65 in advance or $75 day-of)
• Includes access & entry to the event
• Souvenir Sampling Glass
• All-Access Unlimited* Sampling to every Distillery on site
• 5 Voting Tokens
VIP Experience ($90 in advance or $100 day-of)
Everything included in the Full Access Sampling Ticket, PLUS:
• Special VIP-only Sampling products from each Distillery
• Access to Virginia Distillers Association Master Classes
• One Hour early access to event
-———————————————————————–
PARTICIPATING VIRGINIA DISTILLERIES, SAMPLING PRODUCTS AND COCKTAILS:
A. Smith Bowman Distillery (Fredericksburg)
Bowman Brothers Small Batch Bourbon, Isaac Bowman Port Finished Bourbon, John J. Bowman Single Barrel Bourbon. Mary Hite Bowman Caramel Bourbon Cream Liqueur, Deep Run Vodka, George Bowman Rum, Tinkerman's Curiously Bright & Complex, Tinkerman's Citrus Supreme
VIP: John J. Bowman Single Barrel Bourbon
Brady's Distillery (Roanoke)
Accomplice Straight Bourbon, Accomplice Double Oaked Solera Whiskey, Accomplice Toasted Rye Whiskey, Brady's Vodka, Prohibition Style Gin
VIP: Cinnamon Maple Sour, Vodka Maple Sour, Brady Collins, Gin Ginger, Bourbon Peach cocktail, Gimlet.
Cocktails: Cinnamon Maple Sour, Vodka Maple Sour, Brady Collins, Bourbon Paloma, Manhattan, Old Fashioned
Caiseal Beer and Spirits Co (Hampton)
Caiseal Vodka, Caiseal Gin, Caiseal Single Malt Whiskey, Virginia Strait Bourbon Whiskey
VIP: Vintage Gin, Peated American Single Malt Whiskey
Catoctin Creek Distilling Company (Loudoun)
Roundstone Rye 80 Proof, Roundstone Rye Distiller's Edition 92 Proof, Watershed Gin 92 Proof
VIP: Limited Release TBD
Chesapeake Bay Distillery (Virginia Beach)
Blue Ridge Vodka, Ghost Pepper Vodka, Lemon Liquor, Chicks Beach Rum, Cureo Coffee Liquor, Smoked Ghost Pepper Tequila, Dr Stoners Fresh Herb Vodka, Dr Stoners Smokey Herb Whiskey, Dr Stoners Hierba Loca Tequila, Dr Stoners Hierba Madura Tequila
VIP: 4Farthings Rum
Cocktails: TBA
Copper Fox Distillery (Williamsburg & Rappahannock)
Copper Fox Peachwood Single Malt Whisky, Copper Fox Chestnut American Whisky, Copper Fox Original Rye Whisky, Amaro Y Arroyo
VIP: Copper Fox Cognac Barrel Finish Rye
Cocktails: Friendship
Deep Creek Distilling (Chesapeake)
Cape Henry Gin, Cape Henry Vodka, Royall Rye Whiskey, Deep Creek Reserve Bourbon, Ghost Whiskey
VIP: Deep Creek Reserve Bourbon
Cocktails: Royall Rye Old Fashioned, Ghost Whiskey Punch, Whiskey Sour, Gin & Tonic, Vodka Soda, Maple Bourbon Smash
Filibuster Distillery (Shenandoah)
Filibuster Single Estate Bourbon, Filibuster Dual Cask Bourbon, FIlibuster Dual Cask Rye, Filibuster Boondoggler
VIP: Filibuster Bottled in Bond Bourbon, Filibuster Triple Cask Bourbon
Five Mile Mountain Distillery (Floyd)
Elderberry Moonshine, Lemon Ginseng Moonshine, Vanilla Plum Moonshine, 105 Rye clear and aged, Sweet Mtn. corn
VIP: Aged 105 Rye
Cocktails: Elderberry Lemonade, Vanilla Plum shrub, 105 Rye Bloody Mary
Ironclad Distillery (Newport News)
Small batch bourbon, Straight bourbon, AR's southern hot honey finished bourbon, Flying Fox Red Wine Cask bourbon, Bottled in bond bourbon
VIP: Tawny Port Cask Finished Bourbon
Cocktails: Special Whiskey Sour
JH Bards Spirit Co (Pulaski)
JH Bards Virginia Straight Bourbon, JH Bards Virginia Rye, JH Bards Maple Whiskey, JH Bards Virginia Single Malt, Sinking Creek Vodka
VIP: JH Bards 6-year Toasted Barrel High Rye
Cocktails: JH Bards Ginger Lime Mule; Cranberry Orange Soda mixed with Bourbon or Vodka
KO Distilling (Manassas)
Navy Strength Gin; Small Batch Bourbon; Small Batch Wheat; Distiller's Reserve Rye
VIP: Cask Strength High Rye Bourbon
Lost Whiskey Club (Fairfax)
High Wheat Straight Bourbon – 90 proof, High Rye Straight Bourbon – 90 proof
VIP: High Wheat Cask Strength Straight Bourbon – Uncut and Unfiltered, High Rye Cask Strength Straight Bourbon – Uncut and Unfiltered
Cocktails: Rye Rickey
Mt. Defiance Distillery (Loudoun)
Mt. Defiance Amaretto, Mt Defiance Cassis Liquour, Mt. Defiance Sweet Vermouth, Mt. Defiance Gin Nouveau, Mt Defiance Absinthe Superieure, Mt Defiance Apple Brandy, Mt Defiance Virginia Velvet
VIP: Mt. Defiance Extra Anejo Agave Spirit
Cocktails: Rum punch
Orkney Springs Distillery (Springfield)
Italian Wheat Vodka, Szechuan Peppercorn Vodka, Ginger Bread Vodka, Peppermint Vodka, Cherry Watermelon Basil Vodka, Strawberry Rhubarb Vodka, Cherry Blossom Vodka, Herbal Mountain Gin, Hop Gin, Grapefruit Gin, Cherry Almond Gin, Siberian Fir Gin, Cucumber Gin, Rosemary Gin
VIP: Hop Gin
Cocktails: Sours, tonics and mules.
Ragged Branch Distillery (Charlottesville)
Ragged Branch Signature Bourbon, Ragged Branch Wheated Bourbon – Bottled in Bond
VIP: Ragged Branch Wheated Bourbon – Cowboy Cut – Barrel Proof
Cocktails: Whiskey and Gingers
Reservoir Distillery (Richmond)
Hunter & Scott Bourbon, Reservoir Rye Whiskey, Holland's Milkman
VIP: Limited Release TBD
Cocktails: Reservoir Sour (Whiskey Sour)
Springfield Distillery (Halifax)
Springfield Straight Bourbon, 1842 Whiskey, 1799 Whiskey with Honey, Scratch Blackberry Whiskey, Scratch Peach Whiskey, Scratch Strawberry Whiskey, Scratch Blackberry Whiskey Sour, Scratch Strawberry Whiskey Smash
VIP: 1842 Whiskey
Cocktails: Springfield Lemonade and Scratched Tea
Twin Creeks Distillery (Franklin)
1st Sugar Moonshine, Peach Brandy, Apple Brandy, Copper Corn
VIP: Peg Hatcher's Straight Whisky
Cocktails: Copper Mule (Copper Corn) and Sangria (Peach Brandy)
Virago Spirits (Richmond)
Four Port Rum, Classic White Rum, Port Cask Rum, Rum 151, Modern Gin with Oolong Tea, Kali Hibiscus Gin, Coffee Liqueur
VIP: Madhu Barrel-aged Gin, Cognac Cask Rum
Cocktails: Gin & Tonic, Dark & Stormy, Daiquiri
Virginia Distillery Company (Nelson)
Courage & Conviction Signature Malt, Courage & Conviction Bourbon Cask, Courage & Conviction Sherry Cask, Courage & Conviction Cuvée Cask, VHW Port Cask Finished Whisky
VIP: Courage & Conviction Cuvée Single Cask
Vitae Spirits Distillery (Charlottesville)
Vitae Spirits Golden Rum, Vitae Spirits Modern Gin, Vitae Spirits Distiller's Reserve Maple Cream
VIP: Vitae Spirits Distiller's Reserve Connifer, Vitae Spirits Distiller's Reserve Smoked Rum
Cocktails: Golden Julep (Golden Rum, Lapson Souchong, Peaches) Summer Lovin' (Modern Gin, Watermelon Shrub, Sparkling Water, Mint)
Waterman Sprits (Virginia Beach)
The Perfect Crush, Organic Vodka, Organic Grapefruit Vodka
VIP: Organic Cinnamon Vodka
Cocktails: The Perfect Orange Crush, The Perfect Grapefruit Crush, Vodka Soda
———————————————————-
This event is rain or shine. Refunds or transfers are not available.
The Virginia Spirits Expo is a 21+ only event.
Please remember to drink responsibly and plan ahead if you need a place to stay or a ride home for the evening.
Learn more about this and future events at: https://VirginiaSpiritsExpo.com
This event is a joint venture from Drink Local and The Virginia Distiller's Association
Proceeds from this event to support Giving Local
LEGAL DISCLAIMER: *UNLIMITED Sampling means access to all items being offered from Distilleries, not unlimited drinking. Sampling amounts are 0.25oz-0.5oz per pour. The purpose of this event is to allow you to sample from, enjoy, and learn about Virginia Distilleries and Virginia Spirits. The event organizer and participating distilleries reserves the right to refuse service to anyone who appears to be intoxicated, is abusing the sampling offerings, or for any other reason deemed necessary at the time. Sampling items available subject to change without notice based on supply availability.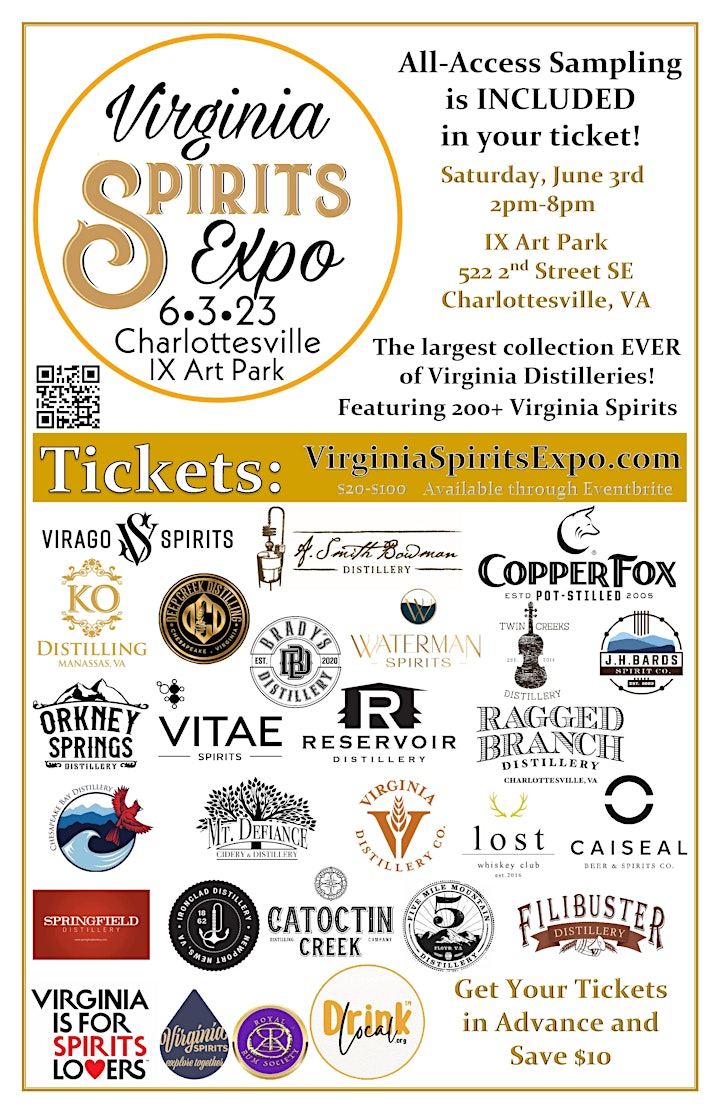 Venue: Ix Art Park 522 2nd Street Southeast #D Charlottesville, VA 22902